Background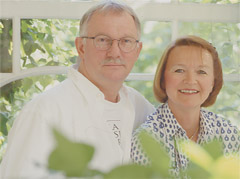 Our background for providing these kitchen courses originates in operating restaurant Gammel Aabyhøj in Denmark, many years' of involvement with wines and gastronomy and the authorship of several books, e.g. "Our Kitchen in Provence".
Gammel Aabyhøj was a member of "Relais & Chateaux" as Relais Gourmand and "Tradition et Qualité", an association counting the best restaurants in the world, both memberships demanding at least 2 Michelin stars in France. In addition Arne Fusager is a former jury member of "Bocuse d'Or" cooks competition. We operated the restaurant for 10 years and received only the best of revues from the press.
After selling Gammel Aabyhøj in 1989 we moved the Southern France and our love for the gastronomic wonders plays a big role in our daily lives running the kitchen school. Over the years our cooking has probably become more Mediterranean-style oriented leaning towards French and Italian.
A recent initiative is "Our Kitchen in Provence II", a book of its own, supplementing the recipies in the first one.
Arne Fusager is the founder of Euro Toques in Denmark, an organisation of European chefs fighting for better raw materials. Furthermore, we have been consultants to and co-owners of Bichel wines in Lystrup, Denmark, Bichel being a small company seeking to find the best wines at the best prices.