Tourrettes-sur-Loup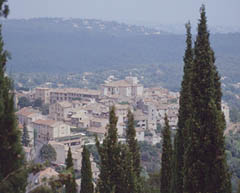 Tourrettes-sur-Loup is one of the most beautiful and well preserved medieval villages on the Cote d'Azur almost clinging to the cliffs with the houses forming a wall around the village and as such a fortification.

The village is located 14 kilometres up from the coast, 5-6 kilometres from Vence and with only 22 kilometres to Nice Airport. Tourrettes-sur-Loup is close to nature with wild gorges and roaring waterfalls, beautiful hiking paths where you meet flocks of sheep and goats nipping the wild thyme and with the shepherd close by.

The village is truly genuine and charming with the little church residing on Roman foundations, the small winding streets with picturesque and well preserved houses cherished in generations and favoured by the mild climate.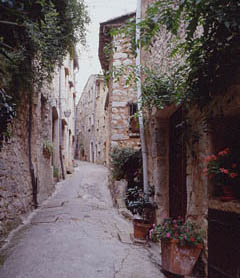 Many craftsmen have taken residence here and the village square is buzzing surrounded by small restaurants and cafes. There is a lot of chatting going on in the butcher shop, the bakery and the grocery store or when the small weekly market is in town. As the rays from the winter sun lure the old women out on the benches along the church wall the men gather for a game of boule.
However, if you prefer the more sporty activities there are tennis courts and riding clubs nearby. Golf courses can be reached within 1/2 hour, ski resorts within 1 1/2 hour.