La Ferrage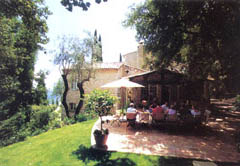 The beautiful property "La Ferrage" in Tourrettes-sur-Loup is situated in 500 meters altitude with a view to the Mediterranean, Les Baous (the mountains behind Vence), the Italian border to the far east, Cap d'Antibes to the south and the Esterel Mountains to the west and not the least the view overlooking Tourrettes-sur-Loup, the small village placed like a postcard straight beneath the property.
"La Ferrage", a place where donkeys were shoed in the old days, has 3 hectares of garden with 265 olive trees and as many cypresses, fresh water ponds with gold fish, access to the mountains and plenty of possibilities for sunning or reading a book in a shady spot under an olive tree.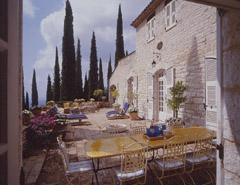 On the property there are 2 houses built from 1963 to 1965 and designed by one of the most celebrated architects in the area, André Svetchine, a professional who also built for Dior and Brigitte Bardot and furthermore the Fernand Leger Museum and the restaurant La Colombe d'Or. The houses have been restored and are kept in the style recognised in the bigger houses behind Grasse and Draguignan with rustic beams in the ceilings, light stone walls and big French doors opening up to the terrace on all sides. The cooking classes and eating take place in the main house located on the very top and the basis for our home.